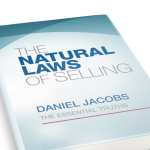 Only The Natural Laws of Selling. This new book, by my long time friend and colleague Dan Jacobs, is a powerful tool for the business and marketing world. I couldn't be prouder of him, his accomplishments and to call him friend.
Dan has been a part of the FiftyX team since the beginning, lending strategic advice and creativity when needed. We send our big congrats for his well-deserved and continued success.
After all, it's only natural.